About Adam Ross Custom Woodworking
Who: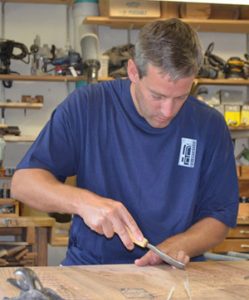 Adam Ross has always had a deep appreciation for nature, its well being, and fascinated by the transformation of trees into a variety of every day products that are a part of our lives. These combinations of interest lead him to acquire a degree in Forestry from West Virginia University. This intensive study lead him to a much fuller understanding of the importance of wood as a renewable resource in our society. He continues this interest in wood and blends it nicely with his philosophy about using a renewable natural resource as the medium for his successful woodworking business today.
Why:
Ross Woodworking began with a simple clear view to build quality solid wood doors and furniture. In 2000 Ross Woodworking was born. The goals were to provide the best possible quality in craftsmanship, operate with honesty and integrity, efficient use of resources, and provide customers with a clear line of communication. These are still the core goals of Ross Woodworking today.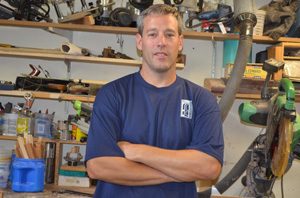 What:
Ross Woodworking supplies homeowners, contractors, designers, and friends with quality woodworking, exceptional service, and a smile. They provide a range of products and services which include solid wood entryway doors, refinishing services to maintain doors, solid wood furniture, and a host of small wooden accessories. Lead Woodworker/Owner Adam Ross feels strongly about sharing his knowledge and experiences in woodworking with others and is currently teaching woodworking classes to children, adults and seniors.
Location:
Adam Ross moved to Florida before the building boom of the 2000's, and was fortunate to find a spectacular piece of undeveloped natural property just outside of Sarasota/Bradenton. At 55 feet above sea level, it is what is considered the "High Pine Flats". The shop is surrounded by mature native Florida pines with thick palmetto and wax myrtle undergrowth. There is even an old abandoned railroad line running across the property that was used to transport fruit. It is said that the natural diversity in this particular forest ecosystem is greater than any other in Florida. Adam Ross with great appreciation said, "It is easy to feel a sense of reverence as you work and live in this environment. We feel it shows in our everyday work."
Environment: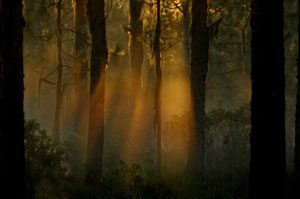 One of the principle goals at Ross Woodworking is to strive to live with and be part of the natural environment. To Adam Ross this means using the resources around them in a conscientious way. Adam Ross was recently quoted "….we are constantly working to find ways to reduce our waste stream, recycle, and maximize our material utilization more efficiently. We have had a lot of fun over the years making sure we utilize our scrap bin material and turn them into fun functional items to sell or give to charity. Our customers appreciate this conscientious approach to give new life to "scrap" and willingly and proudly support our efforts".
Clients:
The Ross Woodworking business model relies on building a solid relationship with its customers and knowing word of mouth is the best form of advertising. This community approach builds exponentially as customs have a different kind of purchasing experience where they are involved, and welcomed to participate in the design and building process. This connection with the local craftsman, value, and exceptional quality is why our customers promote our business.
Adam Ross Custom Woodworking